Coilers, Spoolers & Payoff Units
Coilers, Spoolers & Payoff Units
We offer a comprehensive range of coilers, spoolers and payoff units. Available in various models, these products are designed to fulfill the varied requirements of the end-applications. We offer both standard and customized products.


Vertical Drop Coilers
The applications of a vertical drop coiler cover the coiling of Low / High Carbon Steel and Stainless Steel Wires bare or coated afterheat treatment, surface treatment galvanizing or coating lines. The coiled wire is collected on formers (stems/spiders/baskets), in drums or collected in catch-weight coils.

ASSOMAC Vertical Drop Coilers are designed and manufactured to meet the most rigorous demands of the wire industry. Each machine is designed with a combination of standard sub-assemblies and customized components to match the varied demands of the customers. We deliver the most advanced technical quality at competitive prices. The largest installed base in the country and long experience in the indigenous evolution of these machines make ASSOMAC the best-qualified supplier of such equipment ASSOMAC products are the most sophisticated and sturdy coilers offering reliability and efficiency in operation for customers worldwide.

The block diameters available are 300 / 400 /450 / 500 / 600 / 760 / 900 mm covering wire range from 0.6 mm to 8.0 mm. it is also possible to supply coilers with two sizes of blocks.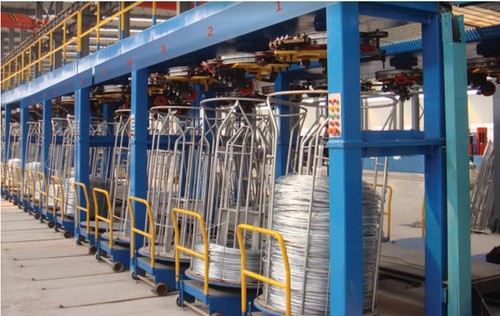 Features:
Rotating flat drum type or double flanged type with single or double pressure rollers or V-groove type drum blocks.
Hardened and ground block drums for low wear and tear. Individually driven blocks or group driven blocks, speed variable through frequency control A.C drives.
Variable speed through frequency inverter not only for individual speed setting but also for their behaviour in start-up and for general safety reasons during threading operations.
Wires are guided by set of creel pulleys individual pulleys, killing rollers and pressure rollers are fitted on each block depending on the material being coiled.
Pattern laying option will individually or group driven turntables
Pneumatically activated wire holding forks for easy removal of filled coil through independent trolleys at each coiler.
Benefits in the form of uninterrupted, non-stop production, larger coil weight proper cast and helix, smooth pay off for subsequent operation.
Optional length measurement system with pre-set counter, buzzer & indication.
Machine speeds available in the range of 20 to 120 DV.
Coilers with inline drawing arrangement are also available for stainless steel wires.