Wire Coiler Packing Machine
Wire Coiler Packing Machine
We are leading manufacturers of Wire Coiler Packing Machine.
SALIENT FEATURES:
Automatic wrapping machine capable of wrapping large range of OD & ID of coils.
Multiple coils can be wrapped using one roll of wrapping material.
Unwrapping or winding back possible.
Variable overlap of packing material possible through speed control as per requirements.
The machine height is adjustable for different OD & ID of the Coils.
Packing Tape tension is adjustable.
Automatic cutting of tape after coil length completion.
Pneumatic draw out of coils after completion.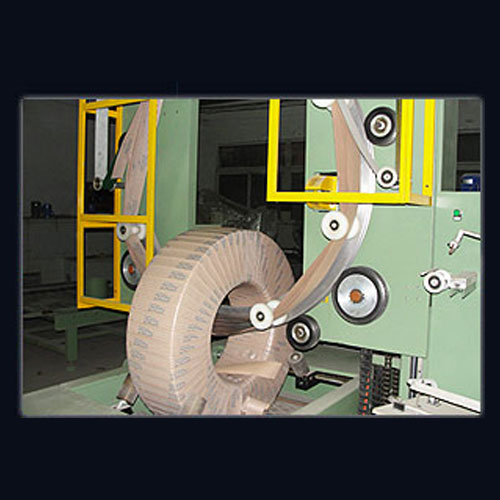 Specification:
| | | | |
| --- | --- | --- | --- |
| Model No. | AML WR-400 | AML WR-500 | AML WR-800 |
| Metal width | < 400 mm | < 500mm | < 800mm |
| Metal OD | < 1500 mm | < 1600 mm | < 1800mm |
| Metal ID | > 508mm | > 508mm | > 508mm |
| Packing material | W:90mm ID:54mm OD: 600mm | W:90mm ID:54mm OD: 600mm | W:90mm ID:54mm OD: 600mm |
| Roller Speed | 2.5m/min | 2.5m/min | 2.5m/min |
| Rotating Speed | 50r/min | 50r/min | 30r/min |
| Roller loading | 3000 Kg | 4000 Kg | 8000 Kg |
| Power output | 7.5 HP | 10 HP | 15 HP |