Wet Wire Drawing Machine
Wet Wire Drawing Machine
ASSOMAC offers state-of-the-art high-speed slip-type wet wire drawing machines for Ferrous / Non-Ferrous Wires and their Alloys.

ASSOMAC offers custom-built options to customers for manufacturing intermediate wires & fine wires as per their needs. The machinery consists of multiple spindles (3 to 7), multiple dies (7 to 23), step cone type wet drawing machines suitable for soap-based or oil-based lubricant with Finishing Drum / Finishing Ring / Spooler or a combination of any two with different capstan diameters and spool sizes as per requirernent. The machine is offered with the constant tension accumulator-type vertical payoff stand with flyer-type baskets underneath, which can be placed before the machine followed by an OTO type accumulator block with single or double dies to provide regular feed for wet machine. Accessories like Pointing-cum-Threading Machines and Butt Welders are also offered. AC variable frequency drive controls with or without PLC are provided.

Machines are suitable for high-speed drawing with optional swivelling die holders. It has tungsten carbide cone rings for long service life and a special lubricant cooling system along with a fully adjustable exit die holder.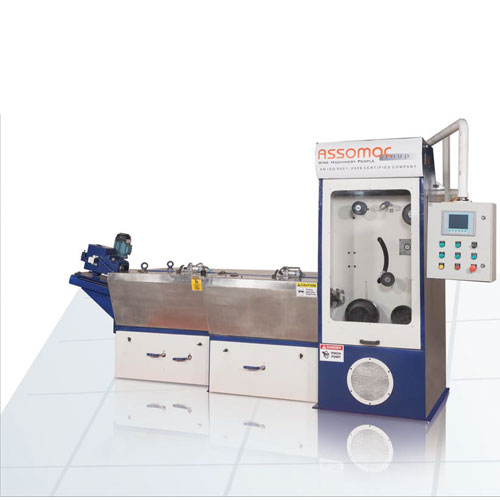 Features:
For drawing Mild Steel, Carbon Steel, Stainless Steel, Copper, Aluminium and their Alloys.
High speed timing belts transmission for power saving and lower maintenance.
Solid Tungsten Carbide drawing cones for very long service life or Alloy Steel T.C. coated drawing cones for economy.
Submerged lubrication or splash lubrication options.
Support cone or all drawing cone design.
Lubricant Cooling System with highly efficient insulated plate type heat exchanger or through centralized lubrication system.
Cones shaft assemblies are easily removable for maintenance and having centralized grease lubrication option.
Dancer system at wire exit for providing synchronization of wire collection at spooler.
Horizontal spooler as per required weight with Pneumatic Clamping or Mechanical Screw Clamping.
Option to operate the machine in tandem with multi pass dry drawing machines.
Re-circulation of lubricant is performed by means of Fluid pump, overflow and manual release valve.