Wire Straightening & Cutting Machine
Wire Straightening & Cutting Machine
Wire Straightening and Cutting Machines are used to straighten & cut wires to make cut length rods out of coils. This machine is used wherever wire is further processed in form of Rods and where accurate straightening of coiled wire with clean cut, tolerances and high outputs are of importance. They are widely used in Industries concerned with Manufacturers of Locks, Umbrellas, Electrodes, Toys, Fan Cover, Kitchen wares, Auto parts, Rib and Tor Steel Wires, Aluminum, Copper, Brass, S.S Wire & PVC Wire etc.

The wire is drawn from the Coil Pay-off Stand through the driven pinch rollers having grooves of different diameters & passed through the high speed rotating spinner, which is equipped with five numbers of quickly and easily adjustable dies of different materials like carbide, Cast Iron, Cast Nylon etc. depending on the material to be straightened. Finally passing through the cutter, actuated by the push rod fitted on the conveyor, the length required can be adjusted as desired on the conveyor gauge. The straightened and cut - to - length wires are collected on the wire collector at the bottom to be removed manually.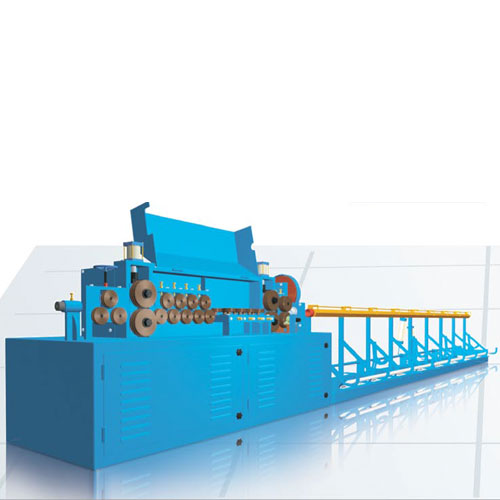 Features:
Computer- Controlled or Programmed Machines.
Any Length of Wire can be cut manually.
Straightening Function by Several Straightening Blocks or through Rollers.
Automatic Cutting Gauge to Ensure Requisite Length.
Machines with Automatic or Semi-automatic Operations.
Standard Accessories:
Electric Motor and Switch.
Automatic Cutting Gauge
Straightening Bushes and Cutting Knife.
Optional Accessories:
Longer Automatic Cutting Gauge.
Additional Straightening Bushes.
Cuting Knives
Variable speed machine
PLC Based Machines
Pay Off
Multi Station Collection systems.
Specifications :
| | | | | | | | |
| --- | --- | --- | --- | --- | --- | --- | --- |
| Model No | AML-SC-03 | AML-SC-05 | AML-SC-08 | AML-SC-16 | AML-SC-ES (Electrode Special) | AML-SC-R8 (Ribbed Special) | AML-SC-R12 (Ribbed Special) |
| In Thickness of Wire | 1.6 to 3 mm | 2.5 to 5mm | 4 to 8 mm | 8 to 16mm | 3 to 5 mm | 5 to 8 mm | 8 to 12 mm |
| In length of wire to be cut automatically mm | 0.3 to 2.5 mtrs. | Upto 6 mtrs. | Upto 6 mtrs. | Upto 12 mtrs. | 350 to 450mm | 12 mtrs. | 12 mtrs. |
| Length of wire to be cut without automatically attachment | Any Length | Any Length | Any Length | Any Length | Any length | Any Length | Any Length |
| Capacity per min. | 36mtrs/min | 60mtrs/min | 50mtrs/min | 20mtrs/min | 50mtrs/min | 120mtrs/min | 120mtrs/min |
| Power of Motor Required (H.P/R.P.M) | 3 + 1 HP / 1440 | 7.5 + 1 HP / 1440 | 10 + 1 HP / 1440 | 15 + 2 HP / 1440 | 5 + 1 HP / 1440 | 10 + 2 HP | 15 + 2 HP |
| Approx Weight | 450 kgs. | 550 kgs. | 650 kgs. | 1800 kgs. | 500 kgs. | 2000 kgs. | 2500 kgs. |
| Floor Space required (In Feet) | 3' x 18' | 3' x 30' | 3' x 30' | 7' x 80' | 4' x 15' | 8' x 80' | 8' x 80' |
| Pay-Off Stand | Revolving Pay-Off for 300 kgs. coil weight | Revolving Pay-Off for 300 kgs. coil weight | Revolving Pay-Off for 300 kgs. coil weight | Turn-Table Pay-Off for 1500 kgs. coil weight | Revolving Pay-Off for 300 kgs. coil weight | Turn-Table Pay-Off for 1500 kgs. coil weight | Turn-Table Pay-Off for 1500 kgs. coil weight |
| PAY-OFF PRICE | Included | Included | Included | Included | Included | Included | Included |
| Price is for upto 2.5 mtrs. Conveyer length. Additional price per meter | Max. upto 2.5 mtrs. included | Additional | Additional | Additional | Length fixed for Stick Electrodes | Max. upto 12 mtrs. included | Max. upto 12 mtrs. included |