Dry Wire Drawing Machine
OTO Type Wire Drawing Machine
OTO Type Wire Drawing Machine
We are leading manufacturers of OTO Type Wire Drawing Machine.
Assomac offers a wide range of high-speed state of the art study. O.T.O./ B.B. Type Wire Drawing Machines. The construction of the machine is such that it can withstand rugged workshop conditions of Wire Drawing Plant and can guarantee the performance and accuracy with least maintenance. These O.T.O./B.B. Type Dry Wire Drawing Machine have wide field applications in Stainless Steel, High Carbon Steel, Alloy Steel, Mild Steel, Copper Wire Drawing. The wire is drawn through a die which is fitted in independent Die Box and is accumulated on the Block, and later being taken through the OTO Pulley to the next Die. BB Block is Twist Free Type Machine with Free Bobbin Block for accumulation and transfer to next block and is better for higher speed & better finish materials.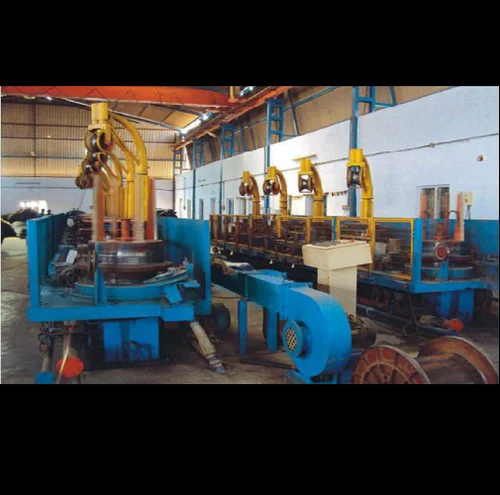 Salient Features:
760/650/610/560/450/350/300mm Single / Multi Speed, Non-Slip, Block Type, Continuous Dry Wire Drawing Machines.
Continues Type in Line Machine for Large Cross Sectional Reduction Inlet size up to 12mm. Wire Rods
Continues type inline Machine for Large Cross Sectional Reduction Inlet size up to 12mm Wire Rods.
Combination with 'B.B.' type Machines for High Speed Applications. A fixed speed with Speed Change Gear Box or variable speed A C / D C Drive is offered.
Heavy Duty Worm and Worm Wheel type fabricated Gear Boxes with standard Greaves (RADICON) & NAW Gears.
Combinations of Heli-Worm or Bevel Helical Gear Reduction if required. Dry / Wet Lubricant type Die Boxes with Optional Rotating Die and Motorized Soap Applicators.
Die Chamber with Forced Water Cooling Indirectly or Directly.
Optional Pneumatic / Electro Magnetic Brakes on Machines.
Operator Console provided on Independent Block or Common Floor Standing type Control Desk.
Inching with Foot Operated Pedal Switch Reverse / Forward.
Graded Cast Iron Drums with Chrome Carbide Hard Matrix at Drawing Portion. Forced Water Cooled Drums for Longer Drum Life and Cooler Drawn Wire.
Additionally Air Cooled Drums with specially designed Uniform Cooling, Air Jackets, Wire Unloading Trough Stripper Blocks, Dead Block Coiler or Spooler.
Accessories:
Wire Pull-in-Dog
Wire Pointing Machine
Wire Stripper
Pay off Stand/Coil Binders
Wire Rope Hoist
Straightening & Indenting Rollers
Wire Butt Welders